Synopsis
Known as a Korean-Italian Consigliere, Vincenzo Cassano flees back to South Korea because of a mafia faction at war in Italy. He stayed in the Geumga Plaza which he secretly owns and where the ton of gold is kept under. While staying in the place, he gets involved with the life of the tenants and be closest with Jipuragi Law Firm meeting Lawyer Cha Young. Back at his motherland, he gives an unrivaled conglomerate a taste of its own medicine with a side of justice.
source: my drama list
Characters
Vincenzo Cassano | Played by Song Joong Ki
Vincenzo is an adopted son of the late boss of the Cassano, a mafia family. He is of Korean descent but raised in Italy. By profession, he is a lawyer and mafia consigliere. He is eloquent, calm and a classic charmer wearing his suit. His initial goal is to reclaim the gold hidden in the Geumga Plaza. Many things changed later as he stays in the Geumga Plaza.
Lawyer Hong Cha Young | Played by Jeon Yeo Been
Lawyer Hong Cha Young is a tenacious lady lawyer of Wusang Law Firm and the daughter of Senior Lawyer Hong Yoo Chan, the CEO of Jipuragi Firm. Later on, she will be devoted to her vendetta against the Babel Group with the help of Vincenzo.
Jang Jun Woo | Played by Ok Taec Yeon
Jun Woo is the acting intern in Wusang Law firm working as the assistant of Lawyer Hong Cha Young. He appear to be a happy go lucky and naïve man; but everything is only for a show.
Note: Teac Yeon acting as villain is commendable in this drama knowing he started from 2pm Kpop idol and Dream High. Great to see him grow as a talented actor now.
Jang Han Seo | Played by Kwak Dong Yeon
Han Seo is the acting chairman of the Babel's Group and the half brother of Jun Woo. He appears to be rude, cocky and pretentious; but in reality, he is just an ordinary and simple-minded man who wants a normal life.
Geumga – Cassano Family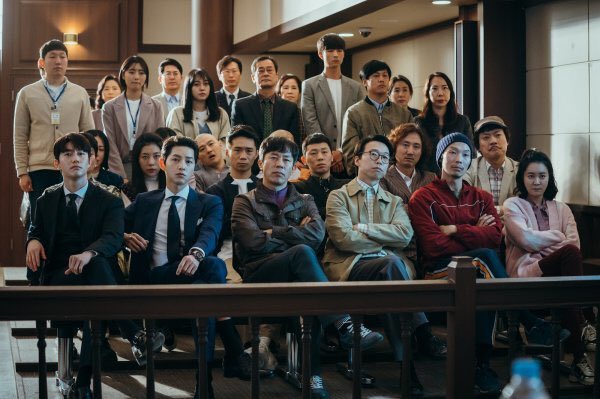 Who would not love the sass and fun Geumga Plaza Tenants?
Soundtracks
Listening closely to the soundtracks of Vincenzo is like having a Venice Canal boat ride in Italy after meeting the team in Money Heist. It was amazing that they seriously incorporate foreign language songs to live up with the story – Vincenzo being a Korean-Italian Mafia Consigliere. Bravissimo!
Critique
Vincenzo is a popular dark comedy k-drama series on Netflix this 2021. This Kdrama takes on the villain's perspective on how justice works in society and how can they also be a hero while staying in the dark side. How would you define justice then?
Judging the acting caliber of Song Joong Ki from "The Battleship Island" and "Arthdal Chronicles", I respect his excellence and dedication to his profession. Indeed, he is the right actor for Vincenzo Cassano. The blend of Korean and Italian suited Song Joong Ki's style. Moreover, his way of speaking Italian accent in the drama is up to par and admired by Italian natives who watched the show. I can't help but laugh when Vincenzo was pissed off and cursing out loud in Italian in his homeland. They said, the cursing word meaning is something worse than the subs provided; yet, the humor was well delivered.
Vincenzo, our Anti-Hero Mafia Consigliere
"There's one last thing I'd like to say from a villain's perspective. Evil is prevalent and vehement."

– Vincenzo Cassano
Vincenzo plays a role of an anti-hero that means having this outside the typical stereotype persona of a real hero like known to be always for the good side of things and acts. Hence, the series introduced Vincenzo as a bad-ass working for the Italian Mafia family. The interesting thing about this k-drama is having the main character who never hesitates to take on a dark and bloody tactics in order to accomplish a mission as similar to the strategy of our main villain in the series. What kind of evil will prevail here?
"Tramontate, stelle. All'alba vincerò. Vincerò. Vincerò."
English Translation Set, stars. At dawn, I will win. I will win. – Vincenzo singing Puccini's emotional aria, Nessun Dorma
Promise, the back to back tension between the two parties (Team Wusang-Babel and Team Jipuragi) made me seat on a couch, watch closely and leave my work/studies behind. haha! Sorry, I can't multitask for this. 🙂
I'm still a villain and couldn't care less about justice. Justice is weak and empty. One cannot win against any villains with justice alone. If merciless justice exists, I am willing to yield to it. Even villains long to live in a peaceful world. However, since that's impossible, I've taken up a new hobby. Getting rid of garbage. If I don't do that, people will die buried underneath the garbage.

Vincenzo Cassano
Romanticizing Mafia
Mafia is a big-time crime syndicate that manipulates people involving illegal activities such as gambling, murder, stealing, and more. Even in general terms, what rings the bell for the word mafia is always relevant to something big bad trouble. So, I am surprised that Vincenzo Cassano is not just an ordinary Italian lawyer but this Mafia Consigliere and the way it is portrayed is romanticized in the kdrama.
Upon knowing it, I googled the meaning of consigliere and even find a organizational chart of this Mafia community. Sorry, I did not know I can go that far out of curiosity. haha! Some aspects of Italian culture in the drama portrayed inaccurately; but, I give them the creative license knowing that this is only a fiction. Do you know how crucial to write stories involving a foreign culture that it might be interpreted wrongly by its native descendants? Still, I admire South Korea film production to take risk on those things.
Silvia Martinelli, a contributing writer in Cinema Escapist, mentioned as an Italian native that the portrayal of mafia as good mobsters in foreign media feels deceitful. Mafia members have committed and still commit atrocious crimes in Italy. In addition, the mafia have been a prominent problem in Italy for centuries.
Seamless CGI
Knowing how the Italy scenes are all CGI is so mind-blowing. There is restrictions still in filming abroad because of the global pandemic. Then, here is Vincenzo showing you this. I appreciate this effort staying true to the story. Bravo! Netflix showed how the trick made in the video. click here.
Korean – Italian Culture
From language, gestures to food, Vincenzo in Netflix surely featured both Korean and Italian culture. There are episodes where characters eat Italian pasta, toast with wine and drink espresso shots. At the same time, the series still featured sweet potato (goguma) and Korean fish shaped pastry (bungeoppang) from South Korea. It is consistent in all the episodes.
The Perfect Comic Relief
The Geumga-Cassano family is definitely the best part in Vincenzo. I believe they are the perfect comic relief in between the dark reality and illegal activities happening per episode. They not only serve as the comedy part but also contributed a lot on the action plans of the new trio of Team Jipuragi against Team Babel. Every character in the Geumga plaza plays an interesting role. Mr. lightning scissors and Ms. tech genius are my favorites. Who among them do you like the most?
Featured Pet – Inzhagi
Watching how Vincenzo interact with this pigeon adds also to the comic relief in the series. Inzhagi reflects on the gentle nature inside of Vincenzo. Though, I thought they will retell a deeper back story about this mysterious pigeon that always visits Vincenzo's window but the drama did not elaborate anything.
Treasure Hunting – The Hidden Gold!
Vincenzo has this one goal of why he is back in South Korea. It is to retrieve his huge stash of gold bars under the building. Mind you, Vincenzo had a hard time taking on the gold because of the location – monk's temple. As an audience, I look forward on when and how will he retrieve the gold bars. It brought excitement on the time of my watch.
~~~~~~
Overall, Vincenzo is one of the best dark comedy K-series genres I watched on Netflix. I haven't seen any major flaw that disturbs the main storyline. The plot twist and action are commendable in every way. The casting is fun and powerful! Even if the focus is not romance, you will be drawn with the "mi amore" chemistry between Vincenzo and Lawyer Cha gradually. Bellissima! <3
Amici è un'anima cia vita in due corpi
English Translation: Friends are like one soul in two bodies. – Cha Young
Definitely, it is a k-series that I would strongly recommend you to watch. Stream it on Netflix!
~~~~~~
Rating: ⭐️ ⭐️ ⭐️ ⭐️ ⭐️
——————————————————————————————————————–
Support this blog by leaving comments, sharing this post on social media, or buy me a cup of coffee.
——————————————————————————————————————–
Note: All photos are taken from their respective websites. The review and rating for this drama are only based on the opinion of the reviewer.