Synopsis
Bridgerton is a Netflix mini-series, narrating a story about the family dynamics of the Bridgerton line and the marriage market in England during the Regency Era (1813). It is adapted from Julia Quinn's series of eight novels featuring the 8 children of Bridgerton and their quest for love while in safeguard their family's reputation.
"All is fair in love and war, but some battles leave no victor, only a trail of broken hearts that makes us wonder if the price we pay is ever worth the fight. The ones we love have the power to inflict the greatest scars. For what thing is more fragile… than the human heart?"

Lady Whistledown
Characters
Daphne Bridgerton, The Diamond of First Water | played by Phoebe Dynevor
Simon Basset, Duke of Hastings | played by Rege' Jean Page
Anthony Bridgerton, Viscount | played by Jonathan Bailey
Lady Violet Bridgerton | played by Ruth Gemmell
Lady Danbury | played by Adjoa Andou
Eloise Bridgerton | played by Claudia Jessie
Penelope Bridgerton | played by Nicola Coughlan
Queen Charlotte | Golda Rosheuvel
Critique
Oh, your grace, everything is worthy of praise. Bridgerton brought "a perfect escapism" among the series on Netflix. It was all hyped on the date of release last December 2020. It has shown a whimsical glimpse mainly about the life of high society during the Regency Era in England 1813.
Focusing on the debutante Daphne Bridgerton in 1st season, it highlights the standard demeanor and priorities of a young woman during that time. The number one goal should be marriage. Fortunately, our female protagonist manages to catch a big fish during the tide of the marriage market though it was never easy as scandals and conflicts arise in the middle.
A-ton of Family Dynamics
Known as a reputable family, Bridgerton is one sought-after bloodline in high society. Lady Violet, the widow of Viscount Bridgerton, trains her daughters to prepare for their debut in high society especially Daphne, the eldest daughter. She is all supportive and caring to her 8 children. Along with the series, the Featherington line also experiences all the family traditions and follows expected standards during this era; however, they faced more struggles and humiliation because they are not as fine as the Bridgertons.
I like the way how the series presents side by side the similarities and differences of Bridgerton and Featherington – the opportunities, problems, fashion, marriage market status, and wealth. Netflix laid them all flawlessly in a variety which made the series more enticing to watch.
Duke of Hastings and The Diamond of First Water
Daphne Bridgerton and Simon Basset are a fantastic power couple for the first season of the Bridgerton series, The Duke and I. Your grace, it is a delight that Daphne ended up as a "Duchess", and not a "Princess". Or else, I might think this is just another Disney princess story. Most audience of this series loves the chemistry of the couple. On my point, they are just perfectly fine but I did not totally root for them. Because in the first part, I still question the sincerity of Simon to Daphne. Eventually, he has proven himself. The progress from the attachment they formed together, a comfortable friendship to the burning love for each other is so beautiful to watch.
Their married life revealed more of themselves, especially for Simon Basset. Daphne made him realize that he deserves more joy in life than holding on to prolonged resentment. In terms of lovemaking scenes, it is highly spirited and shown in the series explicitly. The romance is steamy and passionate, my good lord.
Viscount Bridgerton and the Assertive Spinster Sister
Anthony Bridgerton and Kate Sharma are the vexing lead couple for the second season of Bridgerton, The Viscount who loved me. Though tension and hate came first between the two, you will know there is always this magnetic force dragging them closer. Both of them tried to hold their emotions to each other but in the end, they popped out boldly enough to break 10 wine bottles.
The slow burn strategy in romance this season can make the audience impatient but worth the wait.
Depiction of Regency Era (Language and Fashion)
The Bridgerton series has shown how exquisite and lavish fashion must be in the England Regency era. The audience will find it obvious especially in the first episode when young women dress up for social gatherings and introduce themselves to high society. Wearing corsets hurts much, indeed. More than the quest for romance, the aim of social gathering is more of a political move. According to Los Angeles Times, marriage markets are traditionally orchestrated in order to keep the wealth within a fairly small society (among noble and influential families only) by controlling a pool of suitors.
The conversations are eloquent. It is music to the ear of a literary junkie. And, I fall for it among all. One simple example here explains it all. 🙂
"Prince Friedrich: Miss Bridgerton, I find myself in raptures over your acceptance of my invitation to the palace.
Daphne: You flatter me, Your Highness.
Prince Friedrich: I cannot help it. You are perfection itself."
Season 1, Episode 4 "An Affair of Honour"
Anthony Bridgerton: "I am a gentleman. My father raised me to act with honor, but that honor is hanging by a thread that grows more precarious with every moment I spend in your presence. You are the bane of my existence and the object of all my desires. Night and day, I dream of you. Do you even know the ways a lady can be seduced? The things I could teach you …"
Season 2, Episode 5 "An Unthinkable Fate"
Quartet in Modern Music
The moment I recognized the orchestra playing a modern song, I was mindblown as I stand up all of a sudden from my seat while watching. Wise choice of songs (my good grace!) suiting every scene.
Listen to it by clicking the links below. Do you feel the same?
Lady Whistledown
Lady Whistledown acts as the narrator of the story that carries an intrigue making this Netflix series an episode-turner. How come she knows everything by the way?
"It has been said that, "Of all bitches dead or alive, a scribbling woman is the most canine." If that should be true, then this author would like to show you her teeth. My name is Lady Whistledown. You do not know me, and rest assured, you never shall."
I burst out of laughter in episode 1 after listening to this monologue of Lady Whistledown. From that moment on, I already knew that this series is a binge worth. Indeed, I am in madness to unmask who is this Lady Whistle down, like what Eloise Bridgerton felt. The ending of the season revealed it! What an ultimate surprise?!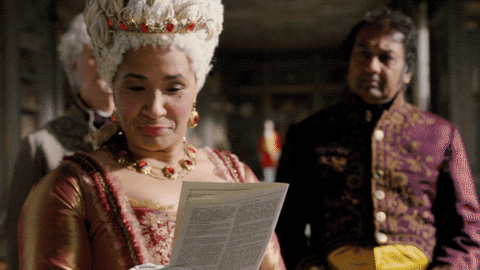 Eloise and Penelope's Friendship
This is what I truly ship in the Bridgerton series – no other than the Peneloise! Eloise and Penelope came from different families – ton, Bridgerton, and Featherington to be specific. When they are together, their conversations are witty and casual about their misfits in the society they live in, where romance and marriage are overrated. Eloise loathes the system because her goal is something more than marriage like having to live on her own terms; while Penelope dreams of romance yet she is often overlooked because of being the youngest and their family's financial struggles pull down her self-esteem.
In Season 2, the peneloise friendship is broken because Eloise discovered Penelope's secret. They need to recover this in the next season.
MY SEASON RATINGS
The Duke and I | Trailer
" Started with forming an attachment, confidant to real passionate lovers…"
Rating: ⭐️⭐️⭐️⭐️⭐️
The Viscount who loves me | Trailer
" An intentional slow-burn romance that surprisingly came from a side-by-side vexing"
Rating: ⭐️ ⭐️ ⭐️ ⭐️
——————————————————————————————————————–
Support this blog by leaving comments, sharing this post on social media, or buy me a cup of coffee.
——————————————————————————————————————–
Note: All photos are taken from their respective websites. The review and rating for this Netflix Series are only based on the opinion of the reviewer.