Synopsis
She needs a house. He needs a housemate to pay off his mortgage. It's the perfect marriage of convenience, with an actual sham wedding and everything. And what do you suppose are the chances of falling in love when you're doing everything in your power to convince your friends and family that it's #truelove? They don't stand a chance. A slice-of-life drama about adulting, friendship, self-love, and finding someone who gets you, just the way you are. Starring Lee Min-ki and Jung So-min.
source: Swoon
Characters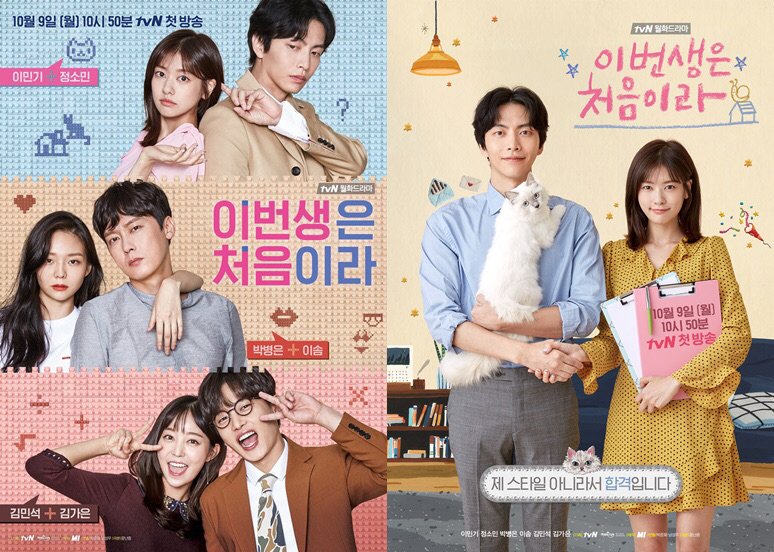 Nam See Hee | played by Lee Min Ki
See Hee is an ace mobile app designer and a data analyst for a mobile application development company. He owns a cozy and urban-type of bachelor's apartment in Seoul but worries about his mortgage to pay. He lives alone at his own home with his cat, Kitty.
Yoon Ji Ho | played by Jung So Min
Ji Ho is an assistant scriptwriter for 5 years. She left her sea-side hometown to pursue her life dream of becoming a well-known writer. However, her career fortune barely shines her way as she still struggles to be an adult such as losing a job, being homeless, and engaging in a fake marriage.
Woo Su Ji | Played by Esom
Su Ji is one of Ji Ho's high school best friends. She managed to work in a well-paid and famous corporate company in Seoul. Their batchmates admire her the best when it comes to career. However, she suffers gender discrimination in the workplace.
Ma Sang Goo |Played by Park Byung Eun
CEO Ma is the smooth and generous boss in the company where See Hee is working. He is also a college friend that knows his past secrets. He did his best to search for the best tenant/housemate for See Hee so he won't quit his full-time job in his company.
Yang Ho Rang | Played by Kim Ga Eun
Ho Rang is one of Ji Ho's high school best friends. She works as a manager in a restaurant. Her only dream in life is to marry the man she loves and be a mother. Even if she has a long-term relationship, life circumstances were never easy for them.
Sim Wo Seok | Played by Kim Min Seok
Wo Seok is the Hoo Bae (junior) of CEO Ma and a classmate of Su Ji at Seoul University. He is trying to establish an Application Developing startup company but failed to market and get investors for it. CEO Ma eventually hired him instead in his company.
Settings
Cheering for the same team! | source: dramachaser
See Hee's Apartment
Dating and Marriage App Company Office
Boknam's Cafe
The Rooftop Room (Ho Rang and Won Seok)
Bus Stop
Ji Ho's Hometown by the Sea (Busan)
Soundtracks
I am in love with the soundtracks for this drama. All the songs are made perfectly appropriate to the story. Here is the list of my top favorites | Click to Listen! :
Critique
Because this is my First Life is one underrated and "of my age" K-drama I've seen last 2019. It offers a real slice of life genre that is truly relatable for people who are on the stage of adulting – 30s line to be specific.
Jiho's dream of becoming a known writer
This got me to watch the k-drama BIMFL. I saw the scene where Ji Ho is cleaning up the apartment while writing a script for a drama. She loves to write and always dreamt of being a writer. Imagine, she escaped her hometown just to apply to Seoul University so she can fulfill her dream job.
She's all talented but her career status is not that promising. She was able to be a writer for 5 years but only as an Assistant Writer. Her batchmates don't recognize being a writer as a prestigious career because you can't earn a lot of money here unlike in other industries. Ugh… But, I still love Ji Ho! She is so like me!
This drama depicts a true story happening in the workplace. The way you imagine your dream career during your younger years will be so different and not as easy when you got there in the real world.
Keeping Adult Friendship
Ji Ho seems to be more introverted and a weird kind of girl. She only had Ho Rang and Su Ji as her best friends whom she regularly hangs out with. I believe that in adult friendship, we tend to keep our circle smaller. Yes, we got this lot of acquaintances because of work and social gatherings but at the end of the day, we chose a few only to hear us out while being our real selves without judgment but only support. The kind of friendship Ji Ho has in this drama is what I also love. As friends, they are facing different realities in life but never forget to share soju and meat when together. 🙂
The Landlord and Tenant Label to Marriage
"You need a house and I need a tenant. We're compatible. Let's get married!"

Nam See Hee
I love how practical the idea of getting married happened in this drama. No Love. Just marriage. I am sometimes considering this kind of setup for my own convenience. :p Fate brought them together in one house. Everything is like an unintended prank.
As the wedding day came, there is one scene that made me cry. **Watch it to know more details. I admire how gentleman See Hee here for Ji Ho. Since the wedding plan is sudden, Ji Ho's mother was not able to know well See Hee as her son-in-law.
**By the way, you must watch how they confess it to their parents so HILARIOUS! HAHA. **
The Story of Room # 19
Ji ho loves this story. She believes that everyone in this world has room # 19. We need to respect that. Also, this room is so special that only you can enter and stay. It simply explains the individual's privacy and connection to the inner self. It's important to keep the key of room #19 whatever happens in your life.
She applied it to See Hee's belief of not getting married and be alone for life. The problem now is Ji Ho seems to enter his Room #19 and pulled him out there unintentionally. You don't need to lock down your self forever yourself in that room. Try to knock and visit room 7 or 9 sometimes too! 🙂
One thing I notice in this drama is the use of books as power props. Power props mean a thing in a movie or drama that expresses connecting a consistent item (in the drama) to the essence of the story of itself. Read this BLOG . They even enumerated all the books used in the drama. I was really amazed!
Realistic Love Story Lines
It shows the contemporary setup of relationships. I like the supporting love stories: CEO Ma x Su Ji and Horang x Wo Seok
Su Ji appears to be a strong, stubborn, and independent woman. However, she is vulnerable on the inside. She's stunning and appealing that's why CEO Ma never forget her and that one night. CEO Ma is so persistent. He did all the best to win her heart even Su Ji can be really tough to him because she does not like commitment. I love how real their relationship grows even without the couple label at first. Su Ji needs CEO Ma to honestly embrace the world and be not afraid to be in love fearlessly.
The endless break and make-up love story of Ho Rang and Wo Seok is a common one. Wo Seok is kind of insensitive here. He clearly loves Ho Rang but does not plan for marriage because for him love and marriage have no difference. The truth is he is just scared of committing and still selfish.
The Humor
How the humor is delivered. Lee Min Ki's appearance as See Hee is really suitable. All his expressions in the drama mostly made me laugh. Haha!
He is really weird. One scene that really made me cry out laughing is when he did matrix acts just to avoid the big expensive bike of Boknam. All because he does not want to pay for it.
Love the Adorable Creatures in the Drama :3
One important creature in the house is Kitty. HAHA. See Hee seems to be a cold and stoic person but I admire how he cares greatly to animals. Kitty is more important than Ji Ho at first. HAHA!
Here's Boknam. In every drama, someone must be the trigger to jealously.
That is the role of Boknam to the contract couple. He is the son of the cafe owner where Ji Ho has a part-time job. See Hee does not want to admit that he is uncomfortable seeing him with Ji Ho. :p HAHA.
~~~~~~
You will learn a lot of life lessons in this drama. If you want something real, watch this…Because this is everyone's First Life. <3
I strongly recommend you to watch Because this is is my First Life. Watch it on NETFLIX. 🙂
Rating: ⭐️ ⭐️ ⭐️ ⭐️ ⭐️
——————————————————————————————————————–
Support this blog by leaving comments, sharing this post on social media, or buy me a cup of coffee.
——————————————————————————————————————–
Note: All photos are taken from Google Images. The review and rating for this drama are only based on the personal opinion of the reviewer.