Violet Evergarden (2018) is an anime series about the ex-military child soldier named Violet turned into an Auto Memory Doll (Letter Writer) under CH Postal Services. It narrates about her self-discovery, deciphering human emotions, and knowing the true meaning of love. Violet Evergarden is also the first-ever light novel that won the grand prize in the fifth Kyoto Animation Award's novel category in 2014.
Characters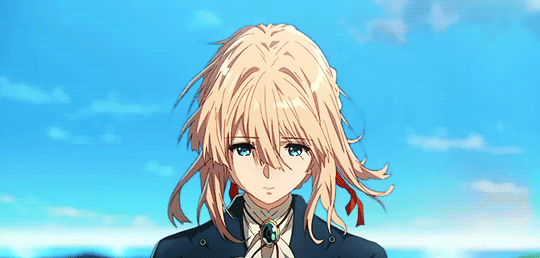 I will travel the world as I can to wherever my customer desires. I am the Auto Memories Doll, Violet Evergarden.

Violet Evergarden
Memories of War
CH Postal Colleagues
CH Postal Clients
Her 1st Client and Classmate, Lucilia Malborough
watch the anime to discover more about her clients
Animation
The visuals are intricate and crafted beautifully. Every frame on each episode brings the vibes of a renaissance that appears like the inspiration from this film came from the European lifestyle during that time. Kyoto Animation made an excellent execution of the visual novel to animation. No doubt about it!
Soundtrack
Sincerely – TRUE (Opening OST)
"あなたの声が道しるべ – Minori Chihara (Ending OST)
With the soundtracks in this anime, you can connect to Violet's melancholic journey of defining emotions and life experiences being an auto memory doll and a real human being.
Critique
Violet Evergarden (Anime Version) is unforgettable, undeniably heart moving, and such a delight. Without any prior bias, this anime reached a standard of excellence in a classic narrative. I made the right choice while scrolling over on Netflix in search of good anime to watch.
Being an Auto Memory Doll
Violet Evergarden using a typewriter
Traveling around the world to deliver your writing services is a dream job for me! One reason I can relate much with Violet in the story is being a ghostwriter. Stories about ghostwriters or the writing industry are so rare in tv shows and anime. Now, it is the real catch for me watching wholeheartedly the Violet Evergarden anime.
Leiden is the capital for industrial advancement after the war. Women have more opportunities to take part in the professional workforce. One job is being a writer or known more as Auto Memory dolls. They work for several postal companies in the country. Violet volunteered to become one in CH Postal Company. It is founded by former Lieutenant Hodgins. Her only reason is to know the meaning of "I love you" being the last words uttered by Major Gilbert during the war.
Violet Evergarden – Auto Memory Doll
Through writing, Violet's new life becomes more purposeful. In every episode with each client, you will see how she discovers things she never felt before. It leads her to understand everything in the end. For me, the stories presented it perfectly. The intensity and depth of human relationships slowly unravel as you progress through the episodes. No one can escape the drama. I swear! Even tough guys cried over here, as they say.
Her Memories of the War
In the beginning, Violet has no formal identity. Dietfried, the older brother of Major Gilbert, happen only to see her monstrous capabilities in a random battle that killed his underlings. He then captured and made her a war weapon. Later on, turn over Violet to the care of Major Gilbert. She also got her metal hand after being intensely injured in the war.
Gilbert gives the name "Violet"
Violet appears to be a young modest woman. – esp. when wearing her auto memories doll attire. However, she was burning a lot in her past. If you discover it, you might be hesitant to befriend her because she is not normal. Luckily, Major Gilbert treated her like a real human. He gave her the emerald brooch (like Gilbert's eyes) as a gift and the name "Violet". He hopes that one day Violet will live up to her name and stop being a war weapon by living a normal life.
As an audience, you can't help but hope that this relationship will turn into a romantic one. Major Gilbert's death was a mystery in the first season. Many fans are requesting a sequel, at least to give justice for a potential romance here. Finally, our wish is granted in the Violet Evergarden Movie released last October 2021.
Parental Love made me CRY!
Meeting Oscar Webster (From Episode 7) and Anne Magnolia (from Episode 10)
The first time I saw violet cry hard
I am sharing the two best episodes that made me cry in the anime series Violet Evergarden. You can click the link for more detailed information about the character. Upon watching the anime, I am already emotionally invested with Violet. I find each experience she has with the clients deep and impactful. For the two episodes, they showed losing a child and losing a mother.
Daughter of Oscar Wilde
Violet ghostwrites for Oscar, a playwright. He needs to finish already the script but failed to do it. So, he thought of hiring an auto memory doll to write while he's narrating the idea. Eventually, Violet discovered Oscar's story is about her deceased daughter. It is heartbreaking to know that he loses all his loved ones and was left alone in the house. By then, Violet understand the love of a father for his child. She was able to help Oscar finish the story. As gratitude, he gave her the blue parasol.
Violet Evergarden with Anne Magnolia
Violet ghostwrites for Clara Magnolia, the mother of Anne. She needs to be a stay-in letter writer for 7 days for this contract. Anne likes the doll-like appearance of Violet but also has a mistrust towards her. I keep guessing on what might be the business of Violet there. At the end of the episode, tears are rolling on my cheeks to discover it. What a great love Clara has for Anne! The revelation was ineffable!
~~.~~
Violet Evergarden is a highly recommended award-winning story and anime series. You will learn the value of life and the beauty of hope for the lifeless. It also advocates the writing industry's best purpose in this world because…
"Every letter deserves to be delivered."

Roland to Violet
Rating: ⭐️ ⭐️ ⭐️ ⭐️ ⭐️
If you have any thoughts to share about this film, feel free to leave a comment below! 🙂
♣YOU CAN STREAM IT NOW ON NETFLIX
——————————————————————————————————————–
Support this blog by leaving comments, sharing this post on social media, or buy me a cup of coffee.
——————————————————————————————————————–
~~~~~~~
NOTE: MOST PHOTOS ARE TAKEN FROM WIKIA FANDOM. THE CRITIQUE AND RATING OF THE ANIME SERIES ARE ONLY BASED FROM THE OPINION OF THE REVIEWER.